"From Boy Wonder to National Hero to Obscurity"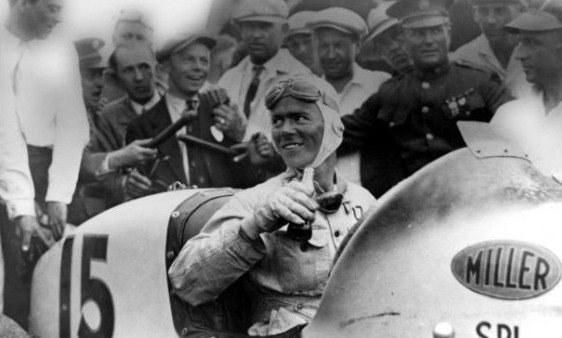 For a brief twenty three month period from 1926 to 1928 a brilliant star came into view and then disappeared just as quickly. Frank Lockhart shocked the world and gained international fame with his phenomenal driving style and technical expertise.
The Early Years
Born in 1903 in Dayton Ohio to a family without means, Lockhart was "different". Today he would probably have a diagnosis of mild Asperger's or some form of ADD; unable to connect with people but obsessed with mechanical things. At the age of three his full attention was in the workshop next door, where the Wright brothers had done their work. The brothers were long gone, but their father took young Lockhart under his wing and together they built a small bicycle. Frank then became obsessed with obtaining speed with his machine- a preoccupation that directed his life.
In 1909, Frank's father died, and the family moved to California. Within a couple of years Frank had built the fastest "Coaster" (similar to soap box derby) in the area. While socially inept he was somehow able to recruit neighborhood kids to work on his projects and had no problem commanding them to follow his will. During this time, Frank would hang out in local garages often with little tolerance from the garage owners, until Ray McDowell in Hollywood took a special interest. McDowell gave Lockhart a junked model T and helped him rebuild it into a race car with a highly tuned "Frontenac Ford" engine.
At local dirt tracks, Frank refined the power slide and later applied it to other forms of racing. Soon he gained the reputation of "Boy Wonder of the Dirt Tracks". All prize money was reinvested back into the car. During this time, he was being watched by Ernie Olson of the Harry Miller Garage. Miller designed and built the world's fastest race cars during the "Roaring Twenties". Olson befriended and encouraged the young Lockhart.
In high school Frank had tremendous math and science skills, yet he was virtually illiterate in language and social studies. After somehow managing to graduate in 1918 he was recruited by Cal Tech to take entrance exams where he placed high. But Frank's interest was not in the classroom, it was on the local dirt tracks and the board track at Ascot. By the time he was twenty he was winning almost every race he entered. After two years of local success and stardom, the rest of the racing world was about to experience the "Boy Wonder".
A Star is Born
In 1926, Frank Lockhart traveled to Indianapolis to witness the Indy 500 race. Upon his arrival he looked up Ernie Olson who was assigned to one of teams that had acquired a new Miller 91 race car- the Benny Hill team. With Olson's encouragement, Hill graciously offered Frank Lockhart the opportunity to take a few practice laps in his new Miller 91. Indy was never the same after this demonstration of Lockhart's driving style. While the norm was for drivers to apply braking going into turns 1 and 3, Lockhart just held the throttle open and did a major four-wheel slide into and through the corners allowing much higher exit speeds. Observers were horrified at these half mile slides at 100+mph. It was evident that Lockhart would break the track record if allowed to continue.
On race day, one of Harry Miller's factory team drivers, Pete Kries, had taken ill so the driver seat of a factory Miller 91 was offered to Lockhart. When the green flag fell, starting from the 20th position, the twenty-two-year-old rookie battled with veterans taking the lead at lap 72. By the time Frank had lapped the entire, a light rain started to fall. As the race continued all the cars slowed down for the slippery conditions, but not the Miller of Frank Lockhart. He lapped the field again and after 400 miles officials ended the race early, an Indy first. When the checkered flag fell Lockhart was five miles ahead of the next competitor. He had won at Indy the first time he ever saw the track, in a car that he had never driven before race day. He was twenty two years old.
Overnight, the rookie became a national sensation. Miller offered Lockhart a driver's seat for the remainder of the AAA season where he won several races and finished second in the season championship.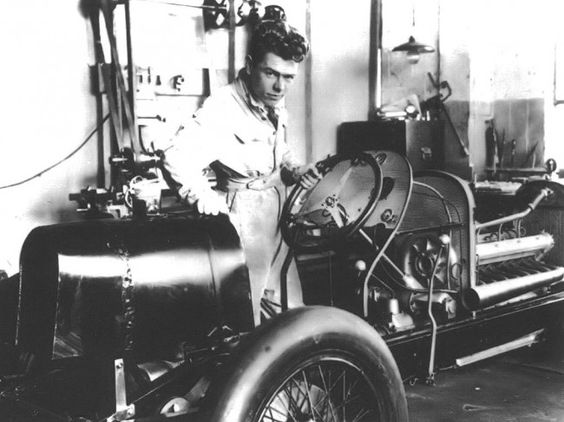 For 1927, Lockhart was back with his own car; that same Miller 91 with some improvements. Harry Miller was not receptive to any ideas of improving his designs, so Lockhart and Olson went rogue. During the fall of 1926, Lockhart had created an intercooler to improve power from the supercharged Miller engine but kept it secret. The car dominated the whole 1927 AAA Championship season and they never opened the hood in public; the intercooler went unnoticed. At the 1927 Indy 500 Lockhart again dwarfed the competition with superior horsepower and driving ability, taking the pole, but broke a crankshaft, retiring at lap 300.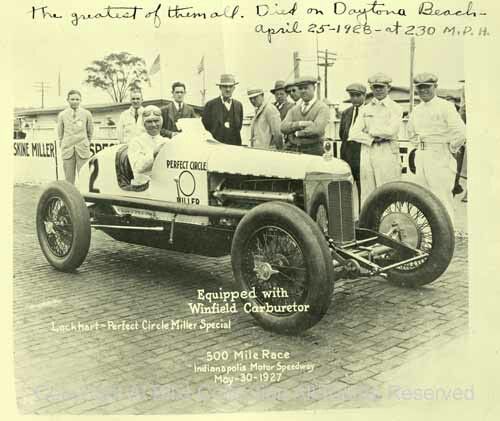 After the Indy race, Olson and Lockhart took their Miller 91 to Muroc Dry Lake in the Mojavi Dessert to try for a land speed record. Muroc was a huge bowl and at high speed, Lockhart had to make sliding turns at each end of his runs. With AAA timing, a one-way record of 171 mph was achieved.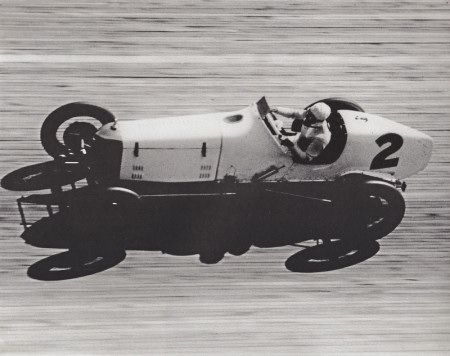 But Frank knew he could go faster and became obsessed with setting a new land speed record. About this time, Lockhart's fame had reached Europe and an offer came for him to drive a formula one car in the 1927 Gran Prix season. But Frank's new obsession with LSR was his only focus.
The Final Chapter
On April 25, 1928, Frank Lockhart met his fate on the sands of Daytona Beach attempting to break the LSR of 207 mph set only weeks before by Ray Keech in a car with a 4,000+ cu in aero motor. Lockhart's amazing machine, the Black Hawk Special, is of special interest. Stutz Motor Company's president Moscovic sponsored Lockhart's 1928 LSR attempt.
A small streamlined car was created in the Stutz factory incorporating the latest (1920's era) aerodynamics. Lockhart devised an incredible 16-cylinder engine, by combining two Miller straight eight engines in a side-by-side arrangement with two crankshafts. The engine measured 181 cu in making eligible for the less than three-liter classes, but Lockhart intended to capture the overall record. The car weighed 2,800 pounds with driver and fuel.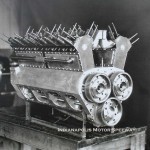 The engine dynoed at 525 hp (@7,500 rpm), which calculated to a projected top speed of 283 mph. It was Frank's final machine in his lifelong obsession- obtaining speed with his machine. For a few brief seconds, in April of 1928, he was the fastest man in the world.
Lockhart Accomplishments:
o Board track record- 22 starts; 8 wins; and 14 top five finishes.
o 1926- Invented the first automotive application of an intercooler.
o 1927 Indy qualifying set track record.
o 1927 Indy led the initial 81 laps- a record that stood for 64 years.
o 1927- Atlantic City set a closed course speed record that stood until 1960.
o Lockhart was inducted into the Motorsports Hall of Fame of America.
o The engine from the Black Hawk Special was salvaged and continued racing at Indy in various cars until 1946.
References:
1. The Golden Age of the American Racing Car by Griffith Borgeson 1966/1998 published by Society of Automotive Engineers.
2. Miller by Griffith Borgeson 1992 published by the Smithsonian Institute.
3. Frank Lockhart-American Speed King by Sarah Morgan-Wu and James O'Keefe 2012 published by Racemaker Press