BMW was founded early in the twentieth century as an engine builder. Within a decade the company was building vehicles for enthusiasts seeking the "Ultimate Driving Experience".  Dodging bankruptcy several times in post WWII Europe, the company finally hit its stride in the late 1960's with several beautiful and commercially successful "driver's cars".  Riding on this success, company executives sought innovative approaches to reach the baby boomer generation in America and around the world. They knew it would take something unique to capture the imagination of a world facing fuel shortages. Recognizing that their cars were often the inspiration of art, the Art Car program was conceived.
It was decided that an effective way to gain public attention would be to show how art inspiring BMW cars were and to have an internationally recognized artist turn a BMW car itself into a piece of art- a "Rolling Sculpture".  In 1974, the BMW Board gave approval for the project utilizing the talents of BMW's Director of Motorsports Jochen Neerpasch, who in turn brought racing driver and art aficionado Herve' Poulain into the project. These two men recruited an artist known for mobility, motion, and whimsey, Alexander Calder, who immediately embraced the idea. The car he executed is considered by many to be the greatest of the nineteen Art Cars that were commissioned over a 45 year history. Sadly, it was one of Calder's final works as he died a few months after its completion.
To maximize visibility the car chosen would be the 3.0 CSL coupe, a race car being prepared for the 24 Hours of LeMans, the world's most important endurance sports car racing event. After being displayed at the Louvre, the Art Car was driven in the 1975 Le Mans 24-Hour race by the American Sam Posey and the Frenchmen Jean Guichet and Herve Poulain. It was wildly popular with the fans and the press at the French classic. They had never seen such a distinctive race car. And the BMW Board was impressed with the international attention that the project created.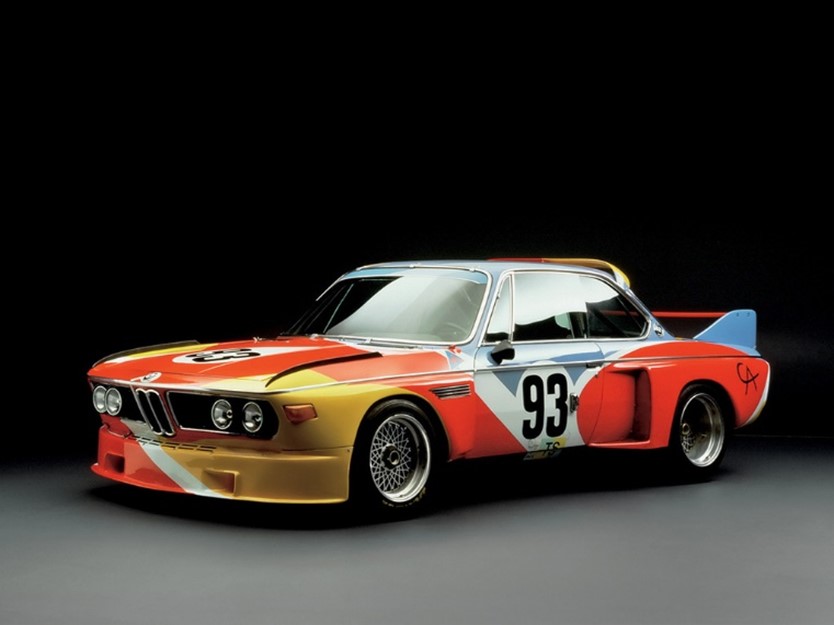 01 | Alexander Calder
1975 BMW 3.0 CSL
Alexander Calder | USA
Born in 1898 in Philadelphia, Alexander Calder started out as an engineer. But then he was overcome by the hereditary urge to follow in the footsteps of his father and grandfather, both of whom were sculptors. At the age of 25, Calder attended courses held by the "Art Student League. Three years later he journeyed to Paris, where he encountered the avant-garde scene. Drawn to art as to technology, he developed an entirely different style of sculpture. His often huge pieces have a buoyant, hovering effect, are painted in daring primary colors and are to a large extent mobile. His well-known works of abstract art entitled "Mobiles" were in the eyes of many the most innovative American sculptures of the 20th century. After staging a series of successful exhibitions in Europe and the USA, Calder moved to Saché in France in 1956. He died in New York in 1976.
With the success of the first Art Car, BMW proceeded to commission two more art cars. Again, they would be race cars to compete at the 24 Hours of LeMans.

02 | Frank Stella
1976 BMW 3.0 CSL
Frank Stella | USA
Born in 1936 in Malden, Massachusetts, Stella began studying art at the Phillips Academy in Andover at the tender age of 14 and went on to study history at Princeton. After this, he set up a studio in New York in which many of his much acclaimed "Transitional Paintings" and "Black Paintings" were produced. An exhibition of his work was held at the Museum of Modern Art as early on as 1959. During this creative period, the influence of the abstract Expressionists is unmistakable. The "post abstractionist," mostly large-scale pop art paintings he produced in the 1960s, are now art history. Between 1960 and 1980, Stella exhibited throughout the world, while continuing to work as a teacher. From 1978 to 1980, a traveling exhibition took place in the USA showing a retrospective of his work. His subsequent creative works consist mainly of relief pictures.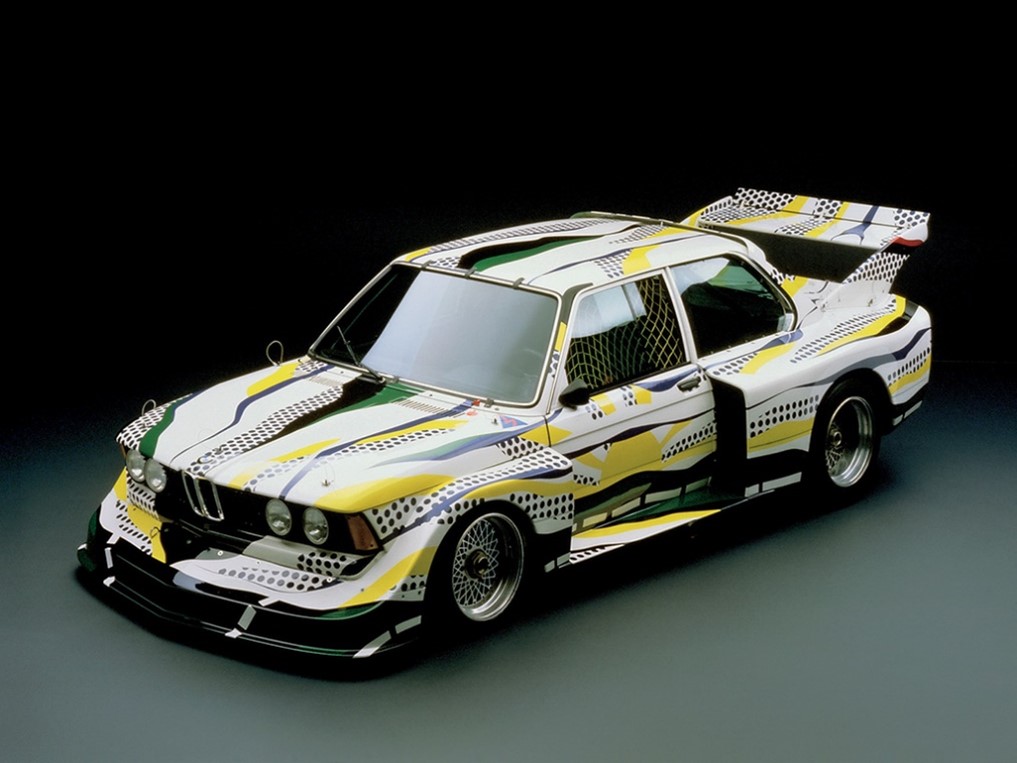 03 | Roy Lichtenstein
1977 BMW 320i Group 5 Race Version
Roy Lichtenstein | USA
Born in New York in 1923, Roy Lichtenstein is generally regarded as the father of American pop art. In the years prior to 1938 he painted portraits of jazz musicians. After this, he attended courses held by the "Art Student League," then went on to study art in Ohio. His subsequent work straddled cubism and expressionism. In the late 1950s, Lichtenstein began dealing with trivial culture such as comics and advertisements. His first pop art pictures appeared in 1961, their monumentalization of the banal heralding a completely new style of art. Following his caricatures of the "American Way of Life," experiments with well-known works of art and various sculptures and films, the Museum of Modern Art in New York held a comprehensive retrospective of Lichtenstein's work in 1987. He died in New York in 1997.
The next Art Car, again a motorsports racer, is most remarkable. It may be the most successful execution of rolling sculpture and could be the most valuable car in the world. Warhol artwork has sold for over $100,000,000 and he considered this project his greatest accomplishment. In his own words "I love the car. It has turned out better than the artwork. I have tried to give a vivid depiction of speed. If a car is really fast, all contours and colors become blurred".
Keeping with the theme of speed, Andy Warhol painted the entire car with brushes in only twenty eight minutes. He was finished before the cameras could be setup to record the event. This piece of rolling sculpture competed at the 24 Hours of LeMans where it finished sixth overall and second in class.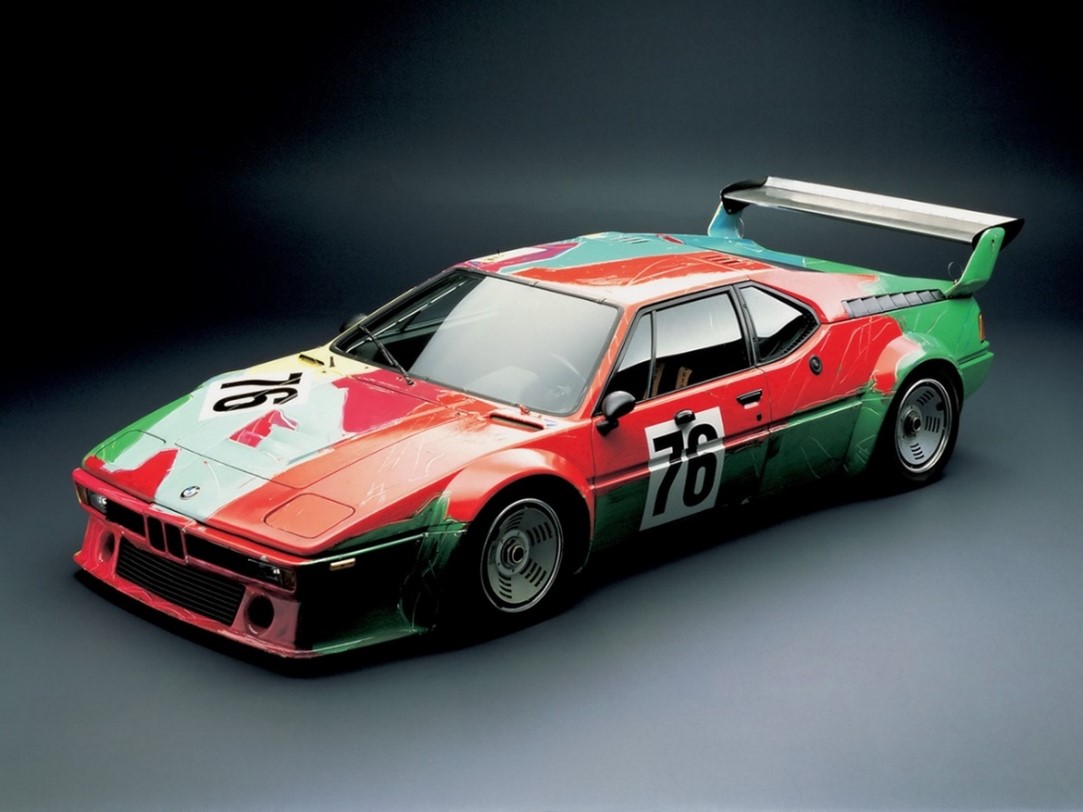 04 | Andy Warhol
1979 BMW M1 Group 4 Race Version
Andy Warhol | USA
The name Andy Warhol is nowadays almost synonymous with pop art. Born in Pittsburgh, Pennsylvania (USA) in 1928, he studied from 1945 to 1949 at the Carnegie Institute of Technology, and immediately after this started a career as a successful graphic artist in the advertising sector. His work went on display as early as 1952 in New York. In 1956 he received the coveted "Art Directors Club Award." At his legendary "Factory," at which he employed a whole team of workers, classic art concepts were negated and overturned in an unprecedented manner. His "mass productions" of prominent faces became well known, as well as painted trivialities such as soup tins and Coca-Cola bottles. Warhol died in 1987 in New York. Two years after his death, the Museum of Modern Art dedicated a full retrospective exhibition to him.
Following the success of the first four Art Cars, BMW decided to continue the project based on cars that could be purchased on a dealer's showroom. The next two Art Cars were based on the company's flagship model, the 635 CSi. They also started the move toward international artists.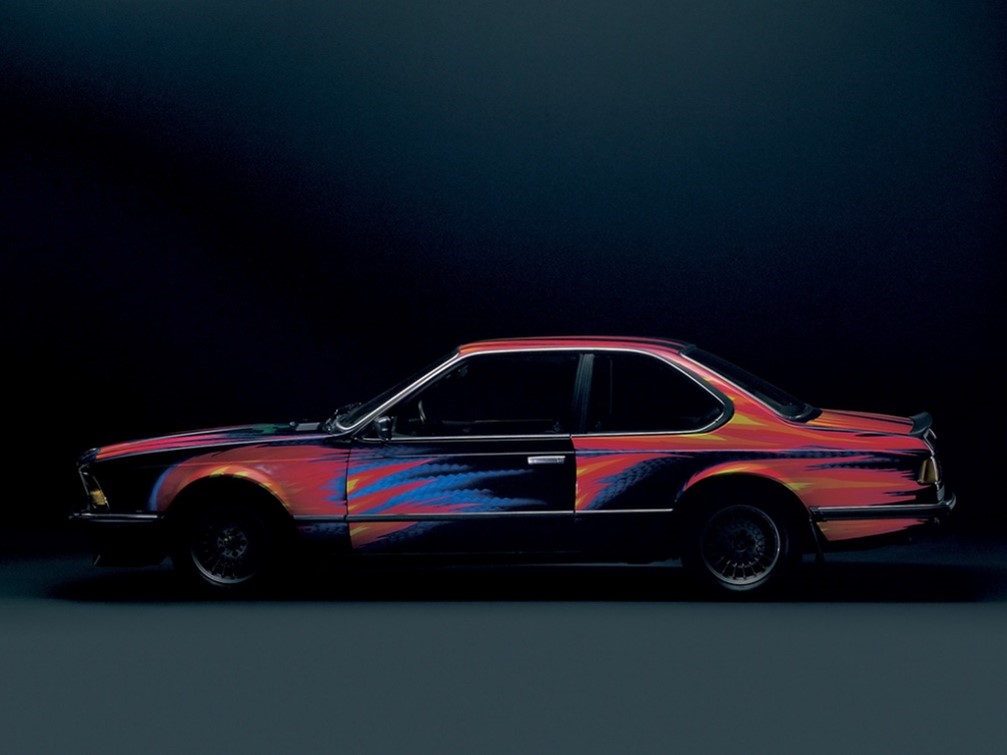 05 | Ernst Fuchs
1982 BMW 635 CSi
Ernst Fuchs | Austria
Ernst Fuchs, born in 1930 in Vienna, studied sculpture and painting from 1943 to 1950. Together with other young artists, he founded the "Vienna School of Fantastic Realism" at the end of the 1940s. Until 1961, he lived and worked together with his fellow Austrian Friedensreich Hundertwasser, mainly in Paris. In 1958 he founded a separate gallery for artists of the "Viennese School" in his home city. In 1974 he developed an interest in musical theater, designing stage sets and costumes. He has since worked increasingly within the realms of poetry and music, and the colors of his paintings have steadily gained in vividness. In 1980 Fuchs cut a record of his own texts and melodies. The educative energy of his work has been underlined by numerous exhibitions, including a retrospective In Venice in 1984.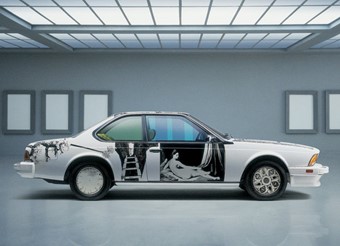 06 | Robert Rauschenberg
1986 BMW 635 CSi
Robert Rauschenberg | USA
Born in 1925 in Port Author, Texas, Rauschenberg counts as one of the pioneers of American pop art. After studying art in the USA and Europe, he joined the "Art Students League" in 1949 and began designing layouts and costumes for theaters all over the world. He later experimented with photographic designs and painting in the style of the abstract expressionists, eventually arriving at his own individual mode of expression – "Combine Painting." This was a collage technique incorporating true-to-life objects and newspaper photographs into an abstract panel painting. After making initial attempts to combine electronics and art, he founded EAT (Experiments in Art and Technology) in 1966. His radical language of form continues to inspire numerous artists.
In 1988, BMW introduced the M3, a track car that could also be driven on the street. To commemorate the M3, two more Art Cars were commissioned. This time from a pair of Australian artists with vastly different styles. Both cars were successfully campaigned race cars.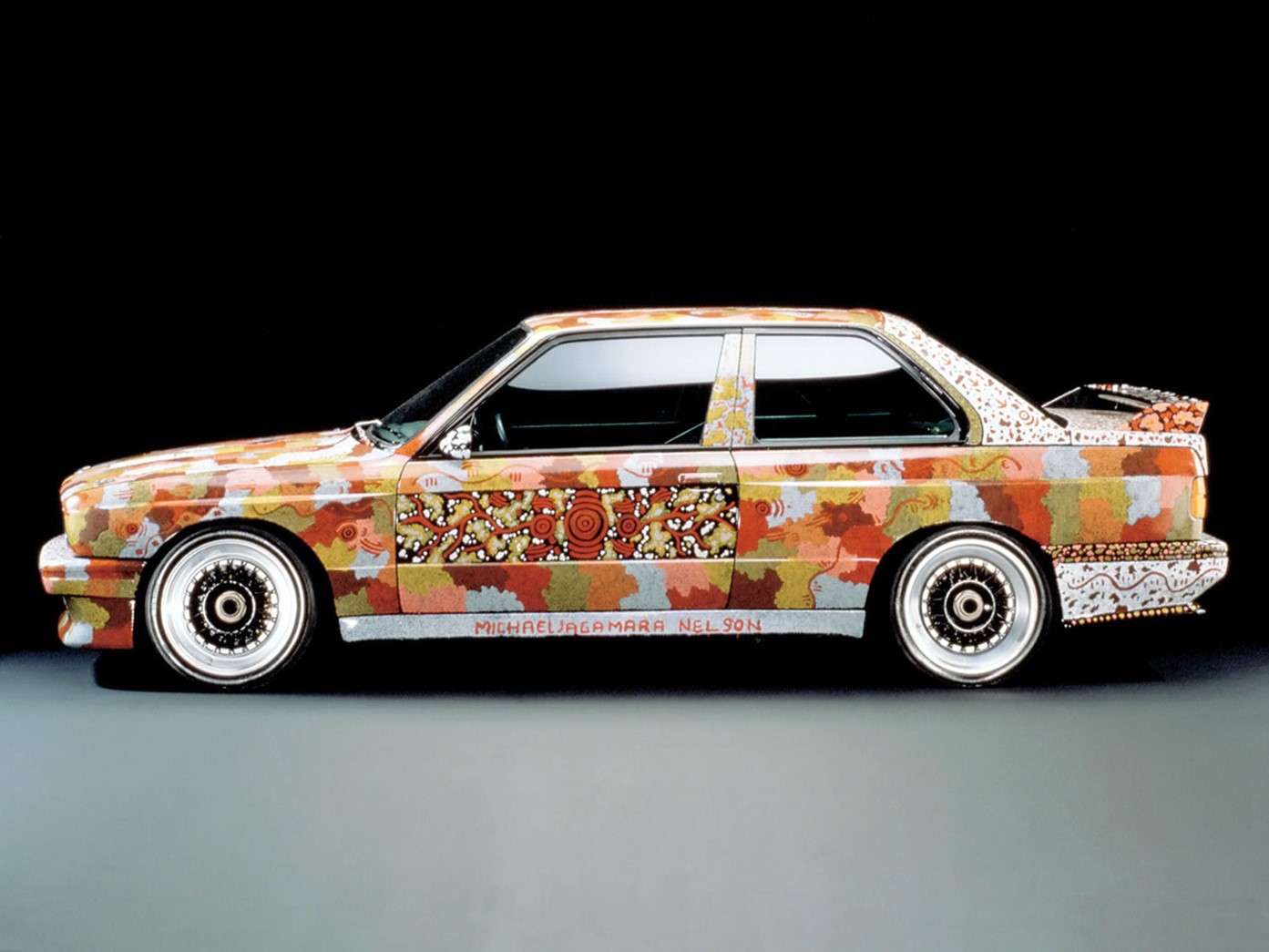 07 | Michael Jagamara Nelson
1989 BMW M3 Group A Race Version
Michael Jagamara Nelson | Australia
Nelson, born in 1949 in Pikili, Australia, belongs to the Warlpiri tribe and grew up in the traditional Aborigine lifestyle. He left school at the age of 13 and made a living as cattle farmer, buffalo hunter and truck driver. In 1983 he learned the ancient painting techniques of his ancestors in Papunya from his grandfather, deriving a new style from them. Very shortly afterwards, in 1984, he won the national prize for Aborigine art and has since been considered one of the leading artists of the "Papunya-Tula" movement. His works are increasingly seen at exhibitions both within Australia and all over the world – including in Sydney, London, New York and Chicago. Nelson's most outstanding works include a large mosaic on the forecourt of the Australian parliament building in Canberra and an equally impressive mural in the northern foyer of the Sydney Opera House.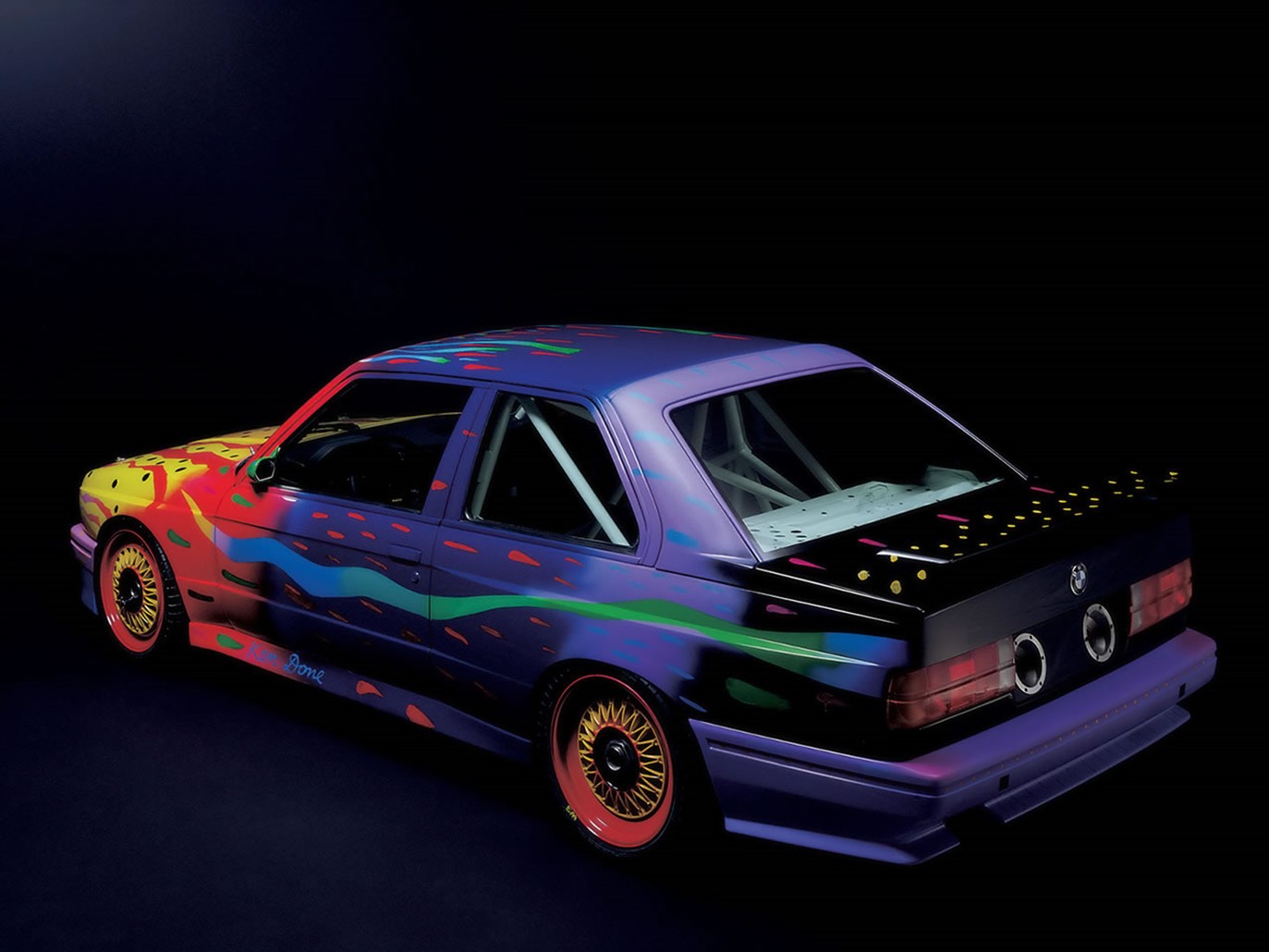 08 | Ken Done
1989 BMW M3 Group A Race Version
Ken Done | Australia
Ken Done, born in Sydney in 1940, left school at the age of only 14 and commenced his art studies at the National Art School in Sydney. After working for 20 years as an advertising graphic designer in Sydney, New York and London, he quit this profession to devote more time to painting. Since his first exhibition in 1980, he has rapidly gained a reputation as a leading Australian painter, to complement his established credentials as a top graphic designer. In 1988 he was commissioned to execute the exterior design of the Australian and United Nations pavilions at EXPO. Highly talented, Done is often engaged on several projects simultaneously. The lively colors and brush strokes of his pictures reflect the typical face of Australia – landscapes, the animal kingdom, beaches, and gardens. His works are on display at exhibitions and in museums and private galleries all over the world.
The next series of Art Cars was executed during a two year period and returns to utilizing showroom cars as the basis of art inspiration. Each of these striking cars represents the essence of the creating artist.

09 | Matazo Kayama
1990 BMW 535i
Matazo Kayama | Japan
Born in Kyoto in 1927, Matazo Kayama studied painting and traditional Japanese arts before exhibiting his works for the first time in 1949. Just one year later he won the Research Society Prize, and in 1951 the New Artist Prize as well as other distinctions. He subsequently experimented with animal motifs for several years before turning to "byobu" illustrations, the artistic decoration of special folding screens, in 1965. By introducing modernism into the realm of traditional art, Kayama helped to establish a new form of expression in Japan. In 1978 he won first prize in the Japan Fine Arts Grand Prix and completed the work "Snow, Moon and Flowers," commissioned by the National Museum of Modern Arts. In 1984 he completed two of his best-known works: a decorated ceiling in Chinese ink entitled "Dragon" and an illustrated 16-section screen. Both now adorn the Koujoni temple in the Minobu Mountains. His more recent works range from jewelry to works in metal and the interior design of Jumbo Jets and luxury steamers, proof of the diversity of Kayama's creative abilities.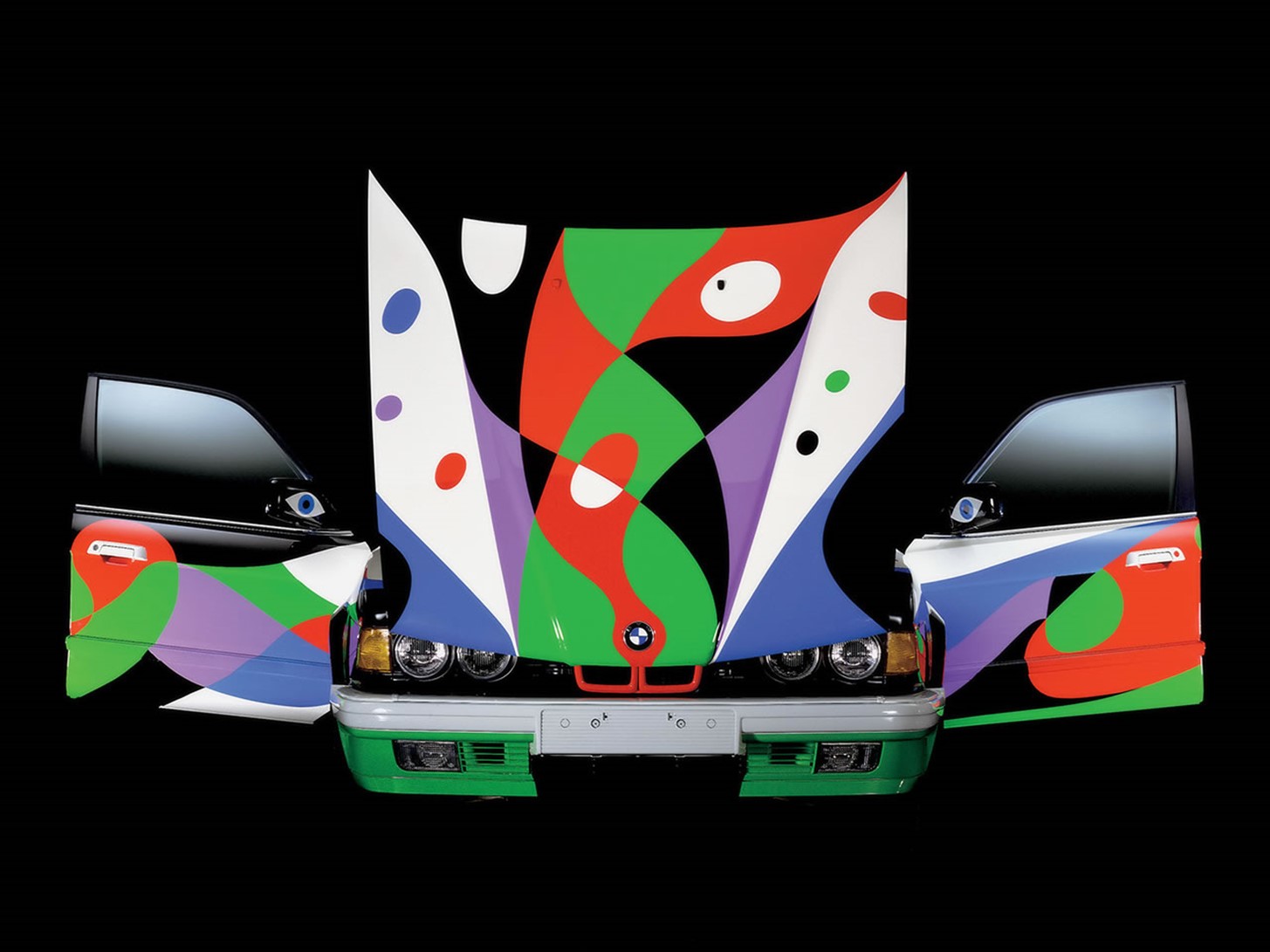 10 | César Manrique
1990 BMW 730i
César Manrique | Spain
César Manrique – some people know him as an architect, others know him as a sculptor, and yet others as a designer, three-dimensional artist, and painter. Manrique is a universal talent; he is also an enthusiastic ecologist, landscape designer and environmental conservationist, who manages to combine his creativity with these concerns as well. It took over 40 years from 1919, when Manrique was born on the island of Lanzarote in the Canaries, for the first public exhibition of his work to appear. The breakthrough at the Venice Biennale in 1960 was soon followed by success in the USA, including exhibitions in New York where the artist lived for three years from 1965 onwards. In 1978 he was awarded the Grand Cross for Distinguished Service by the King of Spain. In 1986 his work was placed alongside that of Goya and Velazquez representing his country at the Spanish exhibition in the Seibu Museum in Tokyo. In 1990, 40,000 visitors from all over the world came to see his works at the Hybernu Palace in Prague. Most of Manrique's paintings share the theme of "Geology and Vulcanism." Using brilliant and muted tones, he visualizes light and lava and the interplay between the two.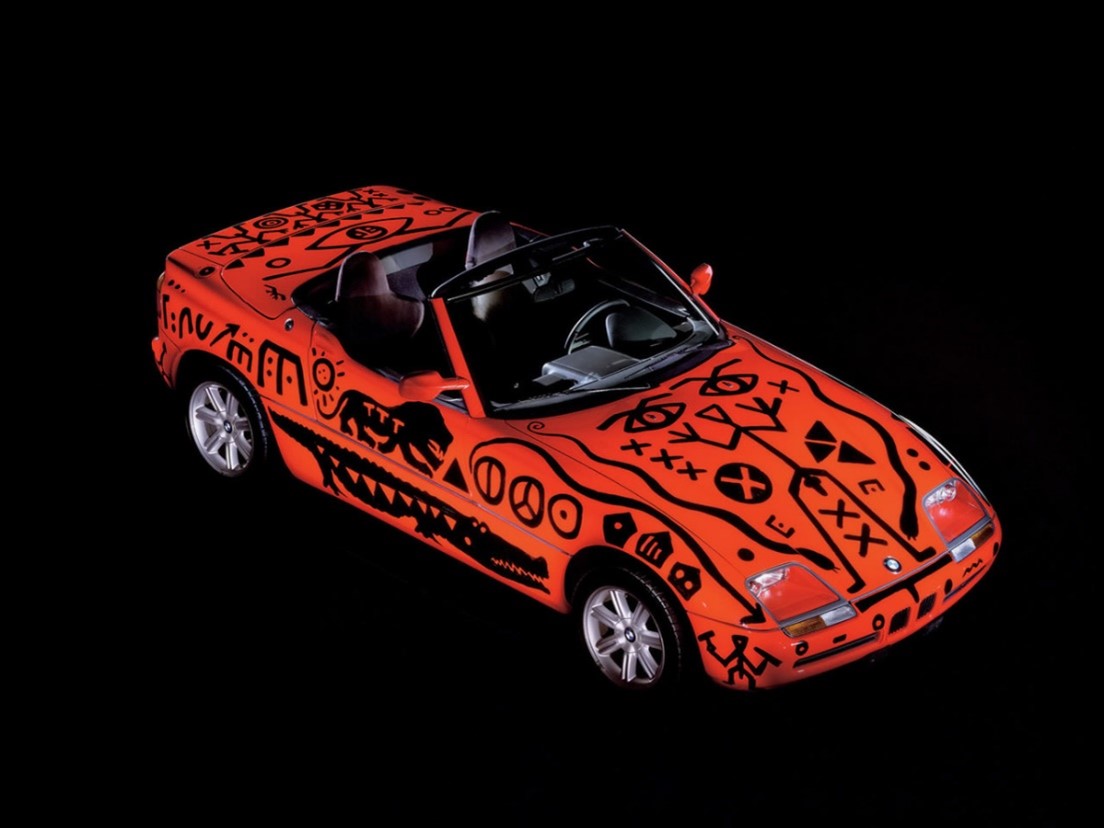 11 | A. R. Penck
1991 BMW Z1
A.R. Penck | Germany
A.R. Penck was born Ralf Winkler in Dresden in 1939. It was here that paintings by this autodidactic artist were exhibited for the first time in 1956. In the following period Penck was intensely concerned with the works of Picasso, Rembrandt and prehistoric cave paintings. The influence of the latter led to the first appearance of his now famous "stick men" in 1960. His interest in mathematics, cybernetics and theoretical physics extended his visual language into "world pictures." In 1966 Penck was refused membership in the Visual Arts Association in the former German Democratic Republic. This was part of a development which led to his expatriation from the GDR in 1980. He settled in the Federal Republic of Germany, where his works had already been exhibited since 1969 and where he had first achieved international recognition. From that time onwards, Penck's works could be seen in over 100 individual exhibitions in Western Europe, Japan and North America. His work appeared in the documenta 5, 6 and 7 exhibitions in Kassel, and he was also one of the most important artists representing the Federal Republic of Germany at the Venice Biennale in 1984. Major retrospectives of his work were shown in Berne in 1975, Cologne in 1981 and Berlin in 1988.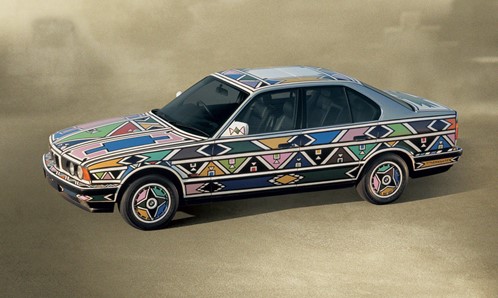 12 | Esther Mahlangu
1991 BMW 525i
Esther Mahlangu | South Africa
Born in the Middleburg district in the Transvaal province of South Africa in 1936, Esther Mahlangu learned traditional Ndebele painting from her mother. One of the many tribal art forms found in South Africa, the striking and instantly recognizable Ndebele mural painting of huts, undertaken only by the women of the tribe, is well known in the country of her birth. Each pattern has a significance and meaning, much of which has been lost in the mists of time. Esther Mahlangu is recognized as a leading exponent of this art form in South Africa, and she is now permanently attached to the Botshabelo Outdoor Museum near her birthplace. She has made the transition from exclusively mural painting to working on canvas. She has exhibited her work throughout South Africa and gained international recognition when she was asked to exhibit in Paris. Esther bears with pride a responsibility for perpetuating a tribal art form of striking intensity and her own daughter is being trained to carry on the tradition.
The following three Art Cars span the decade of the 1990s. Each car is as unique as the artistic styles of its creator. The Art Car project had successfully brought international attention to brand and its innovative products. The world awaited each new Art Car premiere.

13 | Sandro Chia
1992 BMW 3-Series Racing Prototype
Sandro Chia | Italy
Sandro Chia was born in 1946 in Florence, and lived in New York, London and Tuscany. In the magnificent Renaissance city where he spent his childhood and youth, he became familiar with great works of art in a relaxed, almost playful manner. The story goes that playing football there in squares laid out by the great Brunelleschi was an experience that never deserted him later in life. During the 1970s, Chia achieved prominence with significant one-man exhibitions in Rome, Turin and Cologne. A scholarship enabled him to work for a year in Monchengladbach. By 1982 his works were being shown by the Guggenheim Museum in New York, at the Documenta 7 in Kassel and at the Zeitgeist exhibition in Berlin. He is regarded as one of the most significant artists in the Italian "Transavanguardia," and sees himself as a neo-expressionist in whose figurative painting traces of Carra, de Chirico and Picasso, but also of Mantegna and Giorgione can be found. A major exhibition held in the Berlin National Gallery during 1992 enabled art-lovers to renew their acquaintance with his oeuvre and see various new works for the first time.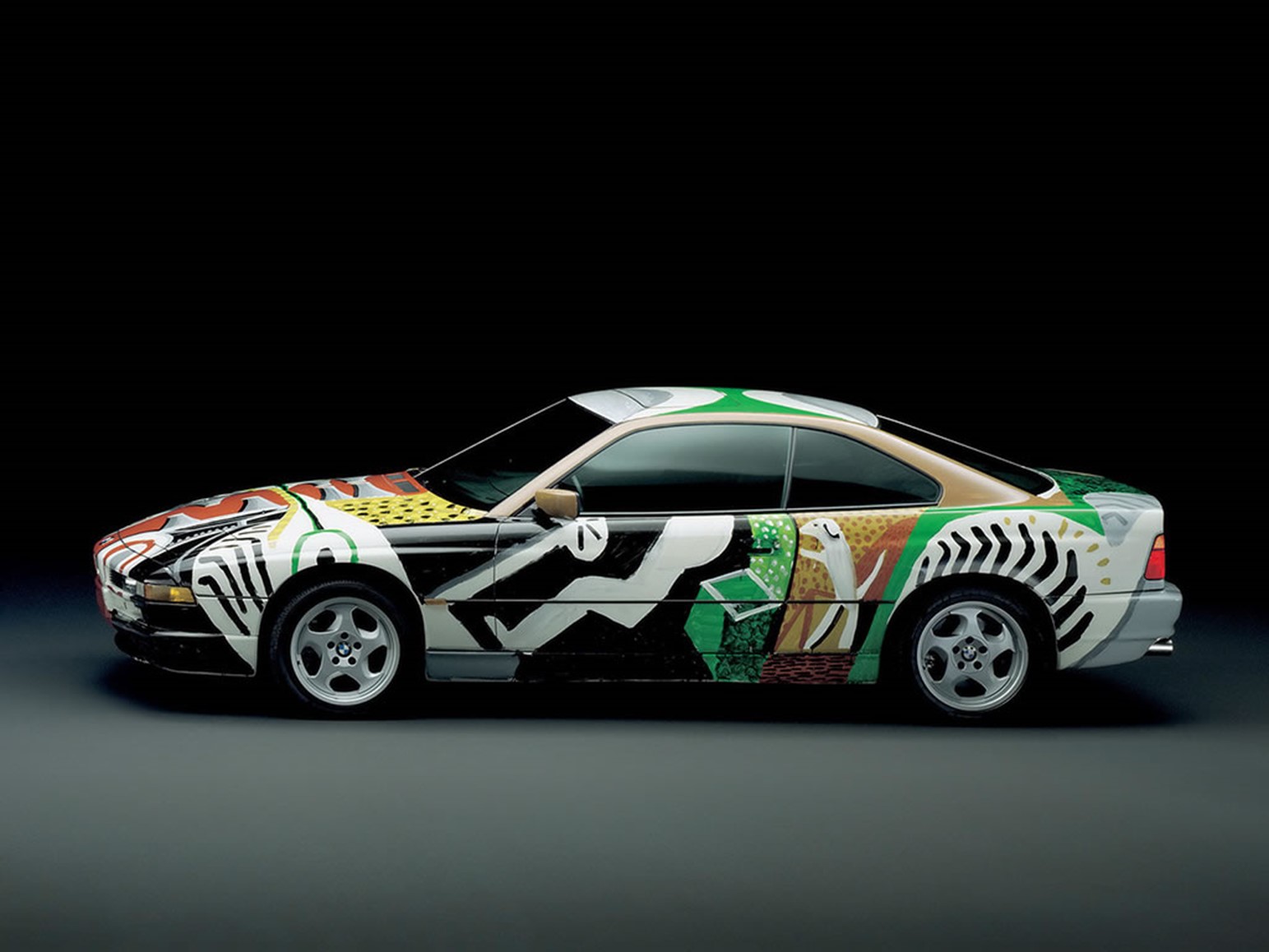 14 | David Hockney
1995 BMW 850 CSi
David Hockney | USA
Born in Bradford, England in 1937, David Hockney came to the forefront of the international art scene in the early sixties and has been one of its most influential protagonists ever since. He studied in Bradford and at the Royal College of Art in London, graduating in 1962, and soon achieved renown as one of the major artistic contributors to the "Swinging Sixties." Hockney has lived in the United States, to be more precise Los Angeles, since 1964, creating the artistic oeuvre associate with his name today amongst connoisseurs worldwide – images of sunshine, swimming pools, palm trees and clear blue sky. He developed his own individual style of pop art which became as popular as that of Andy Warhol. Working in California, London, and during his travels, Hockney focused his attention on people and their environment. His portraits in particular highlight the individuality of their subjects, Hockney's parents and Hockney's friends. In the eighties, Hockney worked extensively with photography and in theatre design, two entirely different artistic challenges which fundamentally altered his approach and influenced him – even though Hockney had meanwhile returned to painting.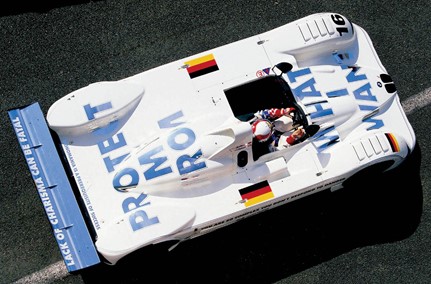 15 | Jenny Holzer
1999 BMW V12 LMR
Jenny Holzer | USA
Jenny Holzer, born in 1950 in Gallipolis, Ohio, is a contemporary artist whose work defies easy classification. Since the late 1970s, she has rejected the language traditional to art – such as figurative images, expressive abstraction, and ironic minimalism – in favor of words with no pictures. Her most complex installations have combined LED messages with carved stone tablets, benches or sarcophagi arranged within a gallery or museum space. Quite often this has been only part of a larger whole that might include outdoor xenon projections, ads strategically placed around town, and even local radio and television spots. There is probably no other female artist today who is to be seen around so much at an international level as Jenny Holzer. Her work has been exhibited at the Museum of Modern Art, The Solomon R. Guggenheim Museum, the Whitney Museum of American Art, the Tate Gallery, the Musee National d'Art Moderne Centre Georges Pompidou, Guggenheim Museum Bilbao, and the Reichstag. She was awarded the Leone d'Oro for best pavilion at the XLIV Bienalle di Venezia in 1990, the Crystal Award from the World Economic Forum, Davos Switzerland in 1994, and a Berlin Prize Fellowship from the American Academy in Berlin for 1999/2000. In 1994 she received an honorary Doctorate of Arts from Ohio University. Holzer lives in Hoosick, New York.
After a seven year hiatus, BMW commissioned the most unusual of Art Car of the series. It reflected the company's new direction toward alternative power, hydrogen in this case. Reflecting the cryogenic nature of hydrogen, the prototype hydrogen car was covered with steel mesh and sculpted dry ice. Internal display lighting creates the illusion of light and ice, keeping with the artist's goal of combining warmth and coldness. The car was constructed in a frozen environment and displayed in a frozen gallery.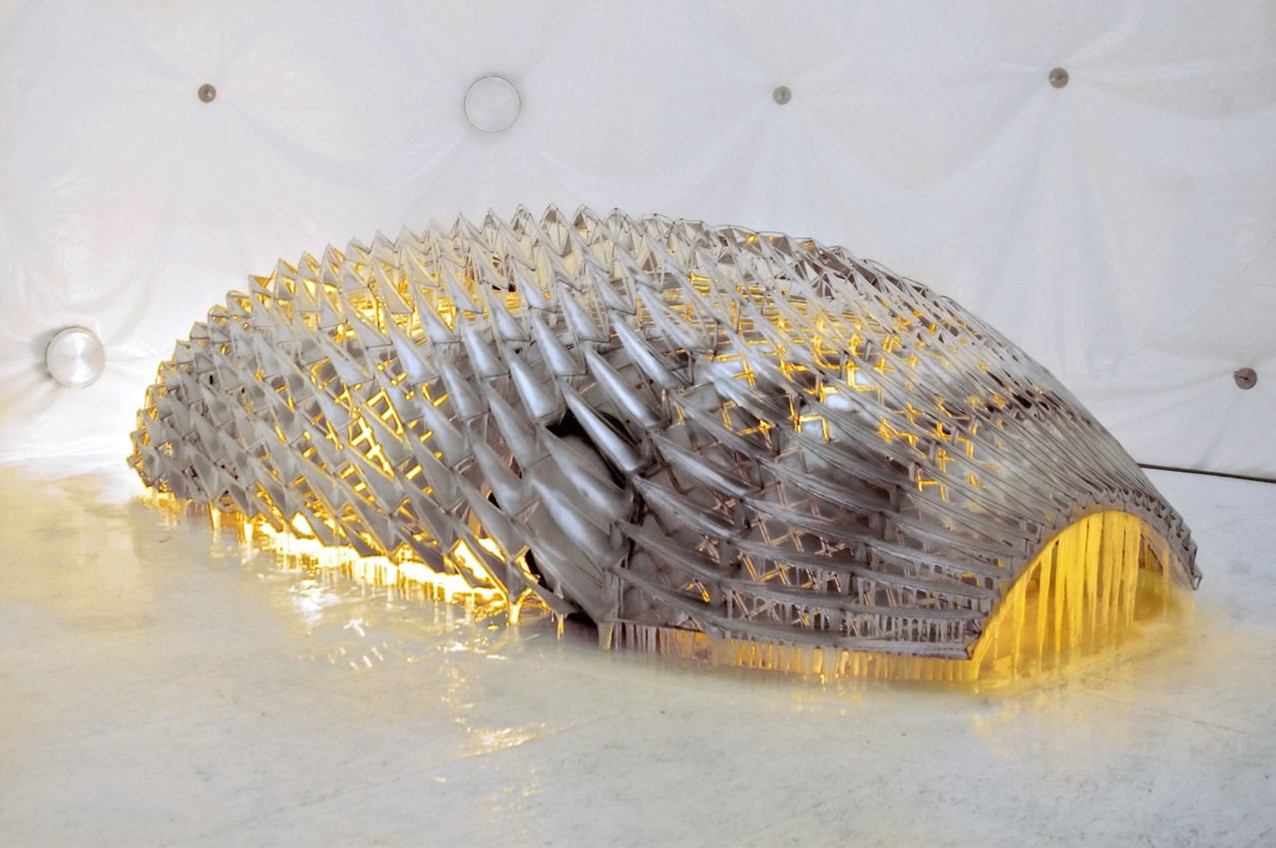 16 | Olafur Eliasson
2007 BMW H2R Project
Olafur Eliasson |  Denmark
Olafur Eliasson (Icelandic: Ólafur Elíasson; born 1967) is a Danish–Icelandic artist known for sculptures and large-scale installation art employing elemental materials such as light, water, and air temperature to enhance the viewer's experience. In 1995 he established Studio Olafur Eliasson in Berlin, a laboratory for spatial research. Olafur represented Denmark at the 50th Venice Biennale in 2003 and later that year installed The Weather Project in the Turbine Hall of Tate Modern, London.
Over the next ten years, there would only be two BMW Art Cars, both from the motorsports racing program.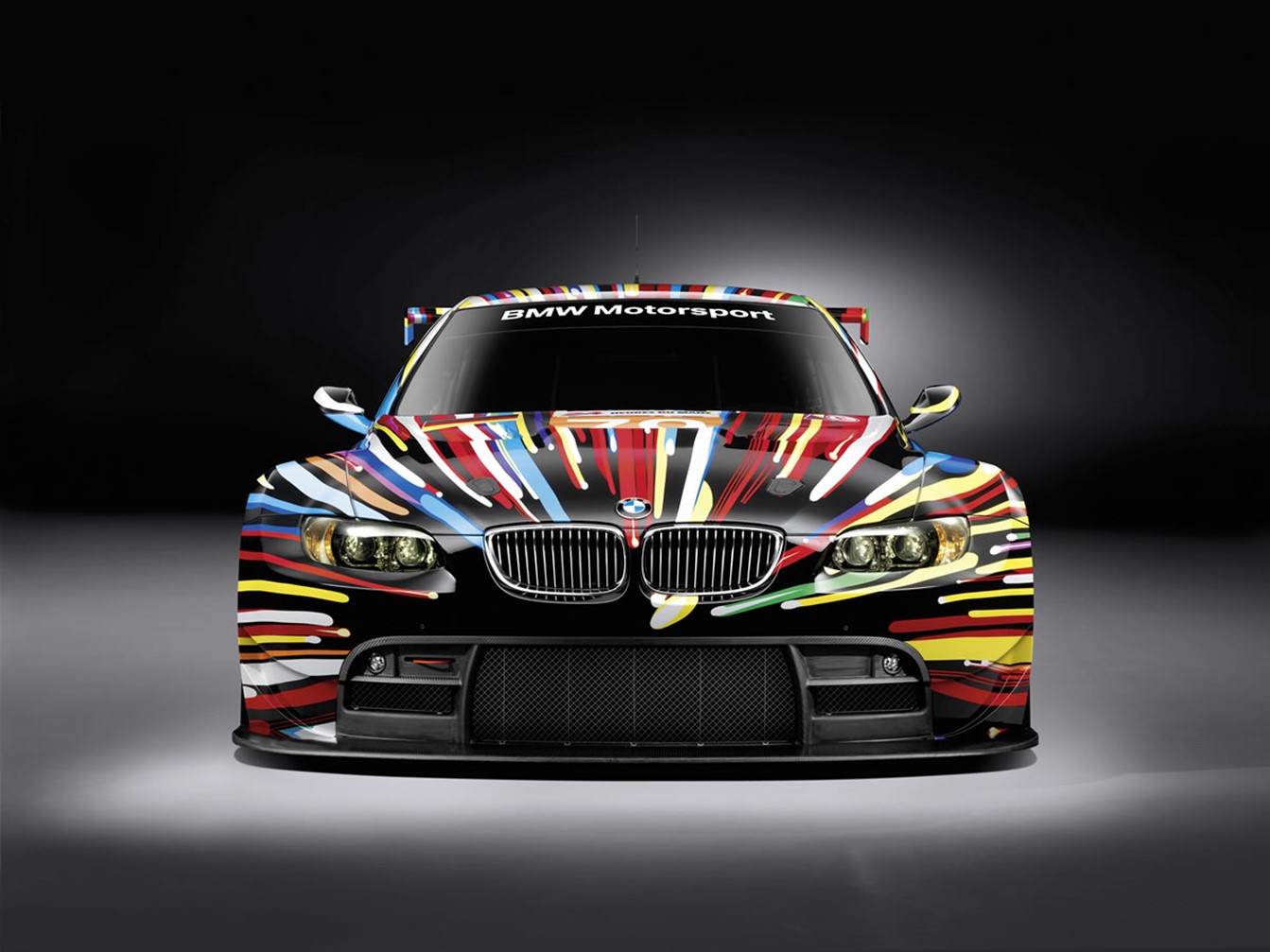 17 | Jeff Koons
2010 BMW M3 GT2
Jeff Coons | USA
Jeffrey L. Koons is an American artist recognized for his work dealing with popular culture and his sculptures depicting everyday objects, including balloon animals – produced in stainless steel with mirror-finish surfaces. He lives and works in both New York City and his hometown of York, Pennsylvania. His works have sold for substantial sums, including at least two record auction prices for a work by a living artist: $58.4 million for Balloon Dog (Orange) in 2013 and $91.1 million for Rabbit in 2019.

19 | John Baldessari
2016 BMW M6 GTLM
John Baldessari | USA
John Baldessari was born in National City, California in 1931. He received his Bachelor of Arts in 1953 from San Diego State College. After a year of advanced art history studies at the University of California, Berkley, Baldessari returned to San Diego State College where he received his Master of Arts in Painting in1957. He proceeded to engage in post-graduate work at Chouinard Art Institute and the University of California, Los Angeles (UCLA). Baldessari taught at the California Institute of the Arts in Valencia, CA from 1970-1988 and UCLA 1996-2007. Baldessari's artwork has been featured in more than 300 solo exhibitions and in over 1000 group exhibitions in the U.S. and Europe. His projects include unique works, prints, artist books, videos, films, billboards and public works. His awards and honors include the 2014 National Medal of Arts Award, an award from the International Print Center New York in 2016, memberships in the American Academy of Arts and Letters and in the American Academy of Arts and Sciences, the Americans for the Arts Lifetime Achievement Award, the Rolex Mentor and Protégé Arts Initiative, the Golden Lion for Lifetime Achievement, awarded by La Biennale di Venezia, the City of Goslar Kaiserring in 2012, and the BACA International 2008. He has received honorary degrees from the National University of Ireland, San Diego State University and Otis Art Institute of Parsons School of Design. John Baldessari passed away on  January 2, 2020 in his Venice, CA home.
The final BMW Art Car is totally unique, reflecting the art form of the artist, this time a multimedia of projected light and software creating a light show of augmented reality. Viewing the car fully requires an app. It was also successful in international motorsports competition.

18 | Cao Fei
2017 BMW M6 GT3
Cao Fei | China
Born in 1978 in Guangzhou, Cao Fei is one of the most innovative young Chinese artists to have emerged onto the international scene. Currently living in Beijing, she mixes social commentary, popular aesthetics, references to Surrealism, and documentary conventions in her films and installations. Her works reflect on the rapid and chaotic changes that are occurring in Chinese society today. She exhibited her works and projects in Serpentine Gallery, Tate Modern (London); New Museum, Guggenheim Museum, MoMA (New York); Palais de Tokyo and Centre Pompidou (Paris). Cao Fei's recent projects in 2016 include her first retrospective at MoMA PS1. Furthermore, Cao Fei received the Chinese Contemporary Art Award (CCAA) Best Young Artist Award in 2006 and Best Artist Award in 2016; Piedra de Sal Award at Cuenca Biennale in 2016.
BMW Art Cars have appeared both individually and collectively at art and automotive events internationally. All nineteen are permanently displayed at the BMW Museum at corporate headquarters in Munich. Does the future hold more BMW Art Cars? The world has become accustomed to these visual treats and can only speculate of what BMW would be the next inspiration for art.
Steve Ham
March 2021
Steve Ham built his first model in car in 1954 and has driven BMWs since 1971.