Hambone's Benz- A 1986 Mercedes 190E 2.3-16 Company Car
Cosworth "Twin-Cam" Engine – Factory Installed

European Sedan Series Champ- 83, 84, 85, 86

Endurance Speed Record Holder- 154.06mph for 50,000 km.

Factory Image Car for smaller, sportier Mercedes for the '80s

Hambone's odometer reading exceeds 406,000 miles
The "Sixteen-Valve"  Car
In 1983 Mercedes Benz introduced the 190 series car. After more than a decade of watching BMW carve out a small sport sedan market segment, Mercedes responded. The BMW 2002 and the later 320i were the definition of what the market sought. Mercedes responded with a vault solid chassis and a unique multi-link rear suspension powered by an overhead cam in-line four cylinder putting out 125hp from 2.3 liters. Mercedes needed a new image to appeal to the younger buyers in the market intended for the car. The Board of Directors approved a racing program for the first time since 1957. Cosworth Engineering in the UK is best known for its winning "Indy 500" engines. Their expertise in four-valve technology expedited Mercedes product entry. Limited quantities of production 190E 2.3-16 cars were built to legalize the car for competition.
Endurance Records were set in August of 1983 at Nardo, Italy's 12.6- km oval. A team of drivers and crew fielded three identical 190E 2.3-16's, which covered 50,000 km in 201 hours. Including fuel and maintenance stops the cars averaged 154mph. The engines literally ran at 6,000 rpm for eight days around the clock.
Sedan Series Racing is Europe's equivalent to NASCAR. Mercedes successfully teamed up with AMG and other aftermarket sources to create a competition 190 Sedan. Aarton Senna, Alan Probst, and other up-start F-1 drivers were employed. Senna, often considered the most talented driver in history, took the series championship in 1983 at the wheel of a 190E 2.3-16.
The Factory/Aftermarket Consortium integrated engineering from some of the world's leaders worked with the factory engineers in the creation and execution of the car. During its three-year run about 2,000 were imported into the USA. During this same period over 120,000 regular 190's were imported. The success of this model helped lead to today's limited edition AMG/Mercedes models.
Factory Specifications:
2.3 Liter Four cylinder sixteen-valve "twin-cam" engine- 167 hp, rev limited to 6,800 rpm

Five speed close ratio transmission.  (1:1 in 5th gear)

Hydra-Pneumatic rear suspension- from the station wagon 300.

Leather Sport Seats- front and rear (unique rear contoured bench).

ABS Disc Brakes all around- from the 300E

Aerodynamic body moldings from AMG tooling- Painted on factory line.

Tuned exhaust header system, tapered tubes, low restriction

Limited Slip rear axle with 3.64:1 ratio.
Car and Driver magazine was one of several magazines, which tested the sixteen when it was contemporary. Their aggressive testing style resulted in ¼ mile in 15.6 seconds at 92 mph.  They observed a top end of 142. These numbers were paled by the European versions, which packed an additional 30 hp and higher gearing to achieve 160+ mph on the autobahns. Road & Track loved the car but could not justify its $17,000premium over the base $21,000 190E. At $38,100, it actually cost more than a base 300E, which was a lot of car and more appealing to the masses.
Hambone's Benz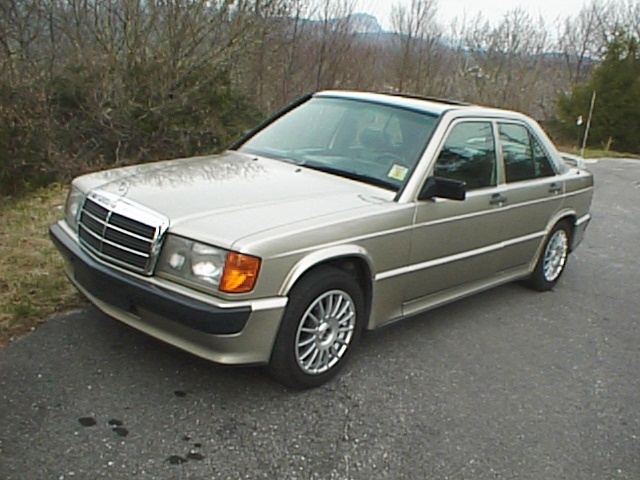 This 1986 example of the breed has not had the life of a thoroughbred. It has been Steve Ham's daily driver and business car since 1986 and the days when his custom-molder employer was owned by Daimler-Benz.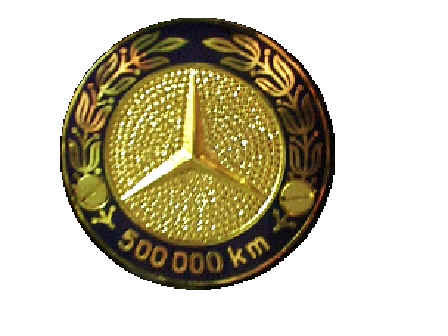 These years of service have earned it the MBNA recognition of the half million-kilometer badge. To date it has logged over 417,976 miles (650,000 + kilometers). While many components have been replaced over the years, the motor is original (the head has never even been off). But not all of its miles have been on interstates. The car has resided in Highlands NC in the Blue Ridge Mountains since 1986.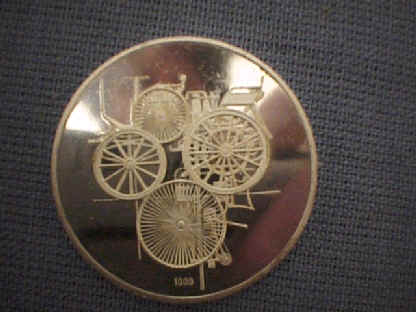 The car also carries a special commemorative badge as the 100-year anniversary model for Daimler/Benz automobiles (1886-1986). All 1986 Mercedes cars with a serial number ending with 00 came with the commemorative badge in the glove box. This sixteen valve car has a serial number ending with 00.
On February 25, 2003 at 417,976 miles, the car was officially retired from daily service when a 2000 BMW 540i (e39) six speed became the company car. The Benz survives a career that would have worn out several lesser cars. It is a totally original example in un restored condition. During a long search for a car capable of replacing this 16-valve car, I drove numerous cars. It was clear that very few new cars could measure up to the performance of this seventeen year old relic.
Today it is in a collection in Monterrey Mexico.